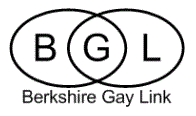 BGL's email address has recently changed. We cannot update the address given on sites that have linked to this one so please only use the address on the 'Contact' page. Thanks
Our Late 2019 / Early 2020 Diary Contains Events:
Tue 26th Nov: Reading Film Theatre Trip 'The Shiny Shrimps (Les crevettes pailletées)' (15).
Fri 29th Nov: Social Evening in Member's Home in Bracknell (car share being organised).
Tue 10th Dec: Annual Christmas Meal (note new venue).
Sun 15th Dec: Christmas Gathering.
Tue 7th Jan: New Year Meal in Central Reading Restaurant.
Thu 23rd Jan: Coffee Evening at Member's Home in Newbury
Tue 4th Feb: Meal in North Reading Pub.
Thu 27th Feb: Coffee Evening at East Reading Member's Home.
Tue 10th Mar: Meal in Caversham Restaurant.
Thu 26th Mar: Coffee Evening in South Reading Member's Home.
Tue 7th Apr: Meal in Twyford
Fri 24th Apr: Coffee Evening in Caversham Member's Home.
WED 6th May: Meal in North Reading Restaurant.