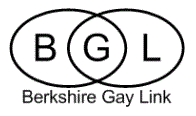 BGL's email address has recently changed. We cannot update the address given on sites that have linked to this one so please only use the address on the 'Contact' page. Thanks
Before Covid, BGL's mainstay was two meetings a month; one being in a restaurant and the other being snacks and drinks in a member's home. Added to this were ad-hoc cinema trips and other events.

Our meetings are currently running at a reduced level and have been modified to be in accordance both with government advice and member's comfort, moving from no meetings to meetings in public parks and then to limited meetings in gardens to small groups in restaurants. The dates/events below may be affected by future developments.

Our Late 2021 / Early 2022 Diary Contains Events:
Wed 13th Oct: Waterfront Restaurant in central Reading.
Wed 27th Oct: AGM and meal in Central Reading Member's Home
Fri 5th Nov: Fireworks and Food in Central Reading Member's Home
Wed 17th Nov: Event to be confirmed
Tue 7th Dec: Annual Christmas Meal in Reading Restaurant.